Beekeeping Supplies Available Online
Where to buy beekeeping supplies in New Zealand?
Beequip is establishing itself as the go-to online shop for beekeeping needs. Whether you are taking up beekeeping as a hobby or you're already a professional, we have dedicated ourselves to providing you with high-quality products.
Beequip has partnered with the leading suppliers and manufacturers of beekeeping equipment around the world to ensure that you are given your choice of the latest products. We have a wide selection of beekeeping supplies for sale that will be delivered to you in a timely and cost-efficient manner.
For beekeeping beginners, we carry a range of Beekeeping Starter Kits to help you begin your colony. Browse through our shop to see how we can help you meet your goals.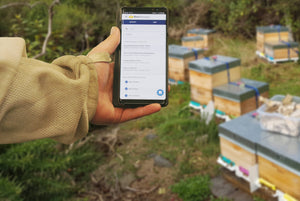 Simpler, smarter beekeeping
Hivemanager
A simple app for effective management. Smart, easy to use and low cost.
Find out more
Make sure your bees don't starve!
Check out Beequip's range of sugar feeders.
Testimonials
Brilliant well done team....big distance no worries, Every thing is Awesome. Im very impressed

Stephanie E | Trade Me
Fantastic seller, shipping co damaged some goods and beequip communicated well and fully replaced them at no charge! I'm buying all my beekeeping supplies from beequip now!!!! A+ Thanks again!

Robert L
We have traded with 13240 people on this site and I can honestly say beequip.nz have been the best traders we have ever had the pleasure of dealing with. They went above and beyond helping us find the correct product, were so approachable, courteous and helpful both on the phone and via email. We were blown away that they didn't even charge postage when we wished to exchange the boots for another size. There customer service was beyond exceptional in every aspect.

Trade Me buyer
Goods arrived quickly and in good condition. Correct numbers packed. spot on top stuff. 

Really appreciate the superb customer service we have enjoyed from your Enterprise.

Your prompt service has made several of my daily missions and challenges through the past months so much swifter and easier to sort out bee-ing right on the game, even ahead of the Colonies which is great.

Cheers Team

Albert E
Super quick delivery. Prompt response and great customer service. Very helpful when inquiring about other products. Highly recommend Beequip for good products andetails customer service. Thank you, the girls (bees) really like the entry point on the queen excluder.

Stephen W
Fantastic trade. Very efficient and speedy. Excellent product. Immediate communication. Very happy, thank you. Trader highly recommended. 

Geoff P
The best bee equipment I have ever bought. Super fast service. VERY highly recommended!

Lisa E
Excellent service - would definitely recommend.

Robert W
Perfect,perfect,perfect and arrived well packaged,fast delivery.

Graeme H